Our Members:
Brian Scott Wilson: Lord Captain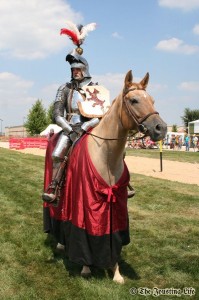 Scott is a 30 year veteran of reenactment and living history. He  practices swordsmanship, armored combat,  jousting, mounted combat both in armor and without as well as a number of medieval crafts such as armoring and swordmaking.
Jeffrey Basham: Lieutenant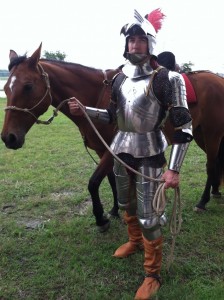 Jeffrey is an experienced horseman and western martial artist. Jeffrey recently started jousting and won the skill at arms at Lysts on the Lake 2012 on his horse Pooh bear.
Other members:
Lesley Wilson is a horsewoman and a fencer. She is interested in mounted combat, jousting, fencing, and horse games.
Caleb Hogg  is learning to Joust and do mounted combat. He is an experienced armored combatant and swordsman, as well as a very talented armorer.
Dale Moss is also a veteran af nearly 30 years of reenactment and is an experienced armored combatant. He is learning to ride and wants to joust and compete in the mounted combat as well.
Tim Delrie has a passion for dagger and wrestling, both in armor or without. Tim is also learning to ride and joust.  He has competed in a number of armored tournaments and has always won renown.
Holiday Hogg is an experienced horsewoman and practicing armored combatant. She jousts, performs mounted combat, and is a hard opponent in the games. Holiday is very comfortable riding her mare Toni Mara.
Roxanne Moore is an accomplished horsewoman who has decided that she needs to learn how to joust. She enjoys the skill at arms, and has a made a name for herself as a historical costumer.
Leo Lastre is yet another experienced armored combatant. His interests have turned to jousting and mounted combats as well, and he has begun riding lessons as the next step in his knightly education.
Nicole Allen has been interested in swordsmanship for years and has taken the logical progression of learning horsemanship and the art of armored fighting as well. She hope to continue to improve her skills and add the art of mounted combat to her already long list of talents.
Stan Roberts and Garrison Morton These two started out as members of the Southern Academy of Swordsmanship, but have become interested in aspects of re-enactment, medieval horsemanship as well as their western martial arts.